Taurine: An Unsung Heart-Health Hero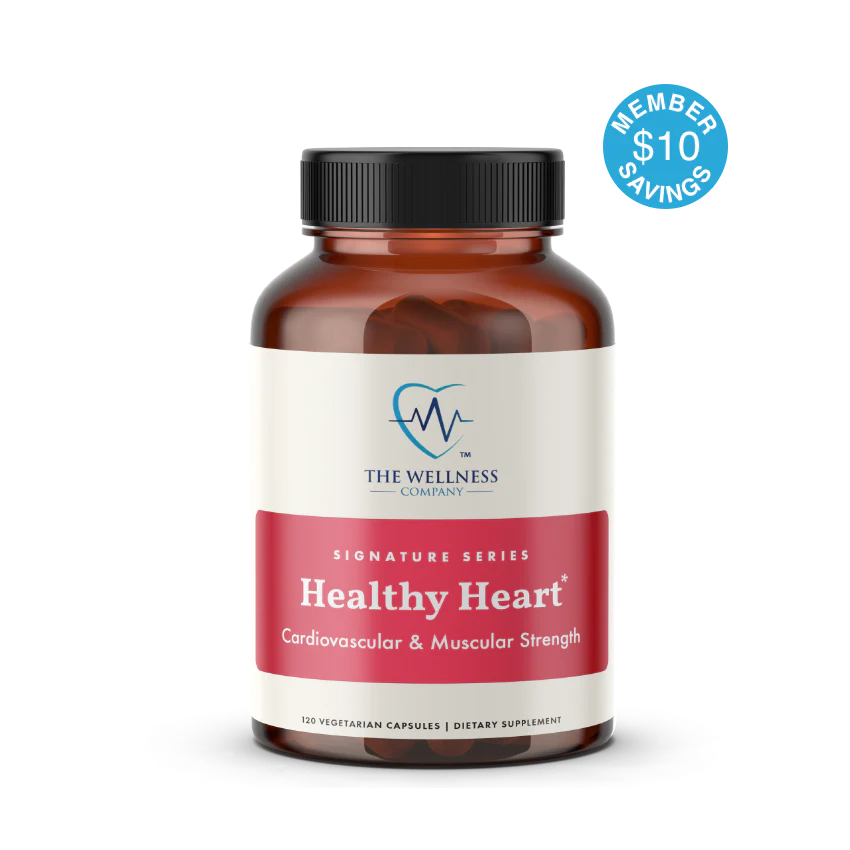 Heart disease is the leading cause of death worldwide, claiming nearly 18 million lives each year. This staggering statistic underscores the urgent need for effective prevention and treatment strategies. We've covered heart-healthy lifestyle interventions like exercise and diet on this platform before. Today, we turn our attention to an intriguing amino acid that is emerging as a promising agent in cardiovascular therapy and which we've included in our updated Healthy Heart Formula – Taurine.
What is Taurine?
Taurine is an amino acid found naturally in meat, fish, dairy products, and human breast milk. While most amino acids play a structural role as the building blocks of proteins in our body, taurine has a much more diverse set of effects on human physiology. Among much else, it has been shown to significantly reduce inflammation, dampen oxidative stress, and even enhance the function of our mitochondria, organelles whose decline is linked with a host of chronic diseases. 
Taurine as a Treatment for Heart Disease
Numerous clinical studies have highlighted the potential benefits of taurine in treating cardiovascular disease, even at advanced stages. One study, for example, found that heart failure patients who took taurine supplements for as little as two weeks saw a significant increase in their exercise capacity.  
In another study, patients with heart disease taking taurine saw a significant reduction in their cholesterol and triglyceride levels, as well as a decrease in inflammatory biomarkers, both before and after beginning an exercise program (indicating the effect was independent of increased energy for exercise).  
Additionally, research has shown that patients benefit from taurine even after major surgeries. In one study, post-op patients given taurine supplements after an aortocoronary artery bypass surgery showed a decrease in left ventricular end-diastolic volume, an indicator of improved heart function. In yet another trial, patients with congestive heart failure showed significant improvements in systolic left ventricular function after taking taurine for six weeks. 
These findings all point in the same direction: for folks with significantly compromised cardiovascular function, taurine makes a real difference on metrics that matter.  
Taurine and Blood Pressure
The benefits of taurine aren't limited to post-op patients, or individuals with full blown heart disease, but also apply broadly to people seeking to pre-emptively address risk factors such as high blood pressure, which is the single most powerful predictor of future heart disease and stroke.  
A meta-analysis of seven studies, published in 2018, found that taurine supplementation produced clinically significant improvements in both systolic and diastolic blood pressure. Importantly, the study did not find any side-effects associated with taurine intake. 
How Does it Work?
Taurine exerts its protective effects through a host of mechanisms, one of which is its ability to blunt inflammation, which is incredibly damaging to the heart and blood vessels. Some research has also shown it to be an unconventional but effective antioxidant, in part by inhibiting enzymes that produce harmful free radicals. Additionally, Taurine has been shown to improve vasodilation, which in part accounts for its capacity to lower blood pressure.  
In addition to these effects, taurine boasts the ability to enhance the function of our mitochondria, the powerhouses inside our cells that produce energy. Mitochondrial disease has been linked to everything from heart disease to cancer to metabolic syndrome, so this effect might account for a nontrivial portion of taurine's protective profile. 
The Bottom Line
We now have decades of research supporting Taurine's status as a uniquely potent cardiovascular therapeutic. It enhances exercise capacity, improves lipid levels, curbs inflammation, and improves overall heart and blood vessel function. Moreover, it effectively manages blood pressure, a key risk factor for heart disease. That's why it's been included in TWC's newest reformulation of Healthy Heart Formula, which will ship in August of this year! 
References 
Beyranvand, M.R.; Kadkhodai Khalafi, M.; Roshan, V.D.; Choobineh, S.; Parsa, S.A.; Piranfar, M.A. Effect of taurine supplementation on exercise capacity of patients with heart failure. J. Cardiol. 2011, 57, 333–337.  
Van Craenenbroeck, E.M.; Beckers, P.J.; Possemiers, N.M.; Wuyts, K.; Frederix, G.; Hoymans, V.Y.; Wuyts, F.; Paelinck, B.P.; Vrints, C.J.; Conraads, V.M. Exercise acutely reverses dysfunction of circulating angiogenic cells in chronic heart failure. Eur. Heart J. 2010, 31, 1924–1934.  
Ahmadian, M.; Roshan, V.D.; Aslani, E.; Stannard, S.R. Taurine supplementation has anti-atherogenic and anti-inflammatory effects before and after incremental exercise in heart failure. Ther. Adv. Cardiovasc. Dis.  
Jeejeebhoy, F.; Keith, M.; Freeman, M.; Barr, A.; McCall, M.; Kurian, R.; Mazer, D.; Errett, L. Nutritional supplementation with MyoVive repletes essential cardiac myocyte nutrients and reduces left ventricular size in patients with left ventricular dysfunction. Am. Heart J. 2002, 143, 1092–1100. 
Azuma, J.; Sawamura, A.; Awata, N. Usefulness of taurine in chronic congestive heart failure and its prospective application. Jpn. Circ. J. 1992, 56, 95–99.   
Sun, Q.; Wang, B.; Li, Y.; Sun, F.; Li, P.; Xia, W.; Zhou, X.; Li, Q.; Wang, X.; Chen, J.; et al. Taurine Supplementation Lowers Blood Pressure and Improves Vascular Function in Prehypertension: Randomized, Double-Blind, Placebo-Controlled Study. Hypertension 2016, 67, 541–549.  
Faghfouri, A. H., Seyyed Shoura, S. M., Fathollahi, P., Shadbad, M. A., Papi, S., Ostadrahimi, A., & Faghfuri, E. (2022). Profiling inflammatory and oxidative stress biomarkers following taurine supplementation: a systematic review and dose-response meta-analysis of controlled trials. European Journal of Clinical Nutrition, 76(5), 647-658. 
Waldron, M., Patterson, S. D., Tallent, J., & Jeffries, O. (2018). The effects of oral taurine on resting blood pressure in humans: a meta-analysis. Current hypertension reports, 20, 1-8. 
Jong, C. J., Sandal, P., & Schaffer, S. W. (2021). The role of taurine in mitochondria health: more than just an antioxidant. Molecules, 26(16), 4913. 
---