Nattokinase and Nigella Sativa Extract Show Promise in Treating Pulmonary Fibrosis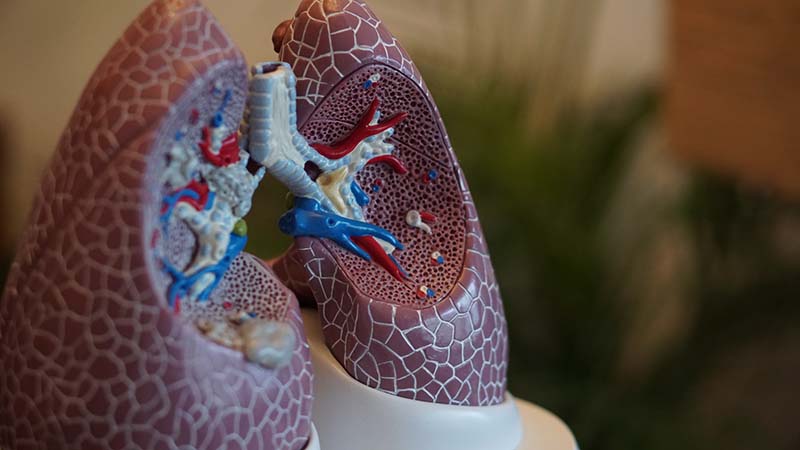 Pulmonary fibrosis, a common consequence of COVID-19 [1], is a condition in which a clotting protein called fibrin builds up in the lung's connective tissues. This causes them to become scarred and stiff, making expansion, contraction, and oxygen exchange progressively more difficult over time. This condition leads to shortness of breath, fatigue, and a markedly reduced quality of life.  
Recent research suggests that two ingredients contained within The Wellness Company's Spike Support Formula, Nattokinase and Nigella Sativa Extract, may improve symptoms and quality of life in people with this debilitating condition.  
Nattokinase Improves Quality of Life in People with Pulmonary Fibrosis
The first study in question was an open-label, prospective trial, conducted on a small sample of patients with a confirmed diagnosis of pulmonary fibrosis. Since scientists have known for years that Nattokinase (an enzyme found in fermented soybeans) and Serratiopeptidase are effective in breaking down fibrin [2], the study's investigators suspected that these enzymes could positively impact patients suffering with pulmonary fibrosis.  
Study participants received supplements containing the two enzymes for 12 weeks and completed a subjective Health-Related Quality of Life (HRQL) questionnaire at the beginning and end of the study. 
Results showed that most patients experienced significant improvements in their symptoms and overall well-being [3]. Specifically, improvements were noted in mental and physical health, as well as in the severity of shortness of breath. Benefits were seen in up to 84.6% of the subjects, depending on the specific measure used.   
Nigella Sativa Extract: Another Potential Therapeutic
Another recent study focused on the effects of Nigella sativa extract (derived from black cumin seed) in rats with pulmonary fibrosis [4]. Due to its potent antioxidant capacity, Nigella sativa has been historically used in traditional medicine for the treatment of various pulmonary diseases, such as asthma. The researchers in this study aimed to investigate the early and late preventive effect of the extract on pulmonary fibrosis. 
The study was carried out using 52 rats with pulmonary fibrosis. Extracts of N. sativa or methylprednisolone succinate (another common treatment) were injected intraperitoneally in two periods (i.e., days 1-14 as early preventive group and days 15-28 days (about 4 weeks) as late preventive group). The lung tissues were examined at the end of each period and inspected for the amount of hydroxyproline and biomarkers of oxidative stress and inflammation. 
The results showed that Nigella sativa extract was effective in reducing inflammation and fibrosis in the lung tissues, like the effects of methylprednisolone. Additionally, the extract helped decrease hydroxyproline concentration (a marker of fibrosis) and improved antioxidant activity in the lungs. The extract demonstrated its effectiveness in both early and late prevention of pulmonary fibrosis and inflammation. 
Bottom Line
While these studies have some limitations (the first was small, and the second was in an animal model), taken together, they suggest that both Nattokinase and Black Sativa extract (Nigella sativa) have real potential as therapeutics for people suffering from pulmonary fibrosis. These treatments appear to reduce breathlessness, curb inflammation, and enhance overall quality of life. The implications of these findings are especially significant in the context of the ongoing COVID-19 pandemic, as the number of people reporting long-term pulmonary issues continues to rise. 

Related Supplements
The Wellness Company's Spike Support Formula contains the following ingredients:  
Nattokinase (degrades spike protein) 
Selenium (supports immune and blood vessel function) 
Dandelion root (acts as a detoxifying agent supporting better liver function) 
Black sativa extract (may facilitate cellular repair) 
Green tea extract (provides added defenses at the cellular level through scavenging for free radicals) 
Irish sea moss (could help rebuild damaged tissue and muscle)  
References  
[1] Rai, D. K., Sharma, P., & Kumar, R. (2021). Post covid 19 pulmonary fibrosis. Is it real threat?. Indian journal of tuberculosis, 68(3), 330-333.  
[2] Mohanasrinivasan, V., Mohanapriya, A., Potdar, S., Chatterji, S., Konne, S., Kumari, S., ... & Subathra Devi, C. (2017). In vitro and in silico studies on fibrinolytic activity of nattokinase: A clot buster from Bacillus sp. Frontiers in Biology, 12, 219-225. 
[3] Shah, N. (2021). Effects of Systemic Enzyme Supplements on Symptoms and Quality of Life in Patients with Pulmonary Fibrosis—A Pilot Study. Medicines, 8(11), 68. 
[4] Poursalehi, H. R., Fekri, M. S., Far, F. S., Mandegari, A., Izadi, A., Mahmoodi, R., ... & Fekri, M. S. (2018). Early and late preventive effect of Nigella sativa on the bleomycininduced pulmonary fibrosis in rats: An experimental study. Avicenna Journal of Phytomedicine, 8(3).  
---