The Science Behind our Signature Series Restful Sleep Formula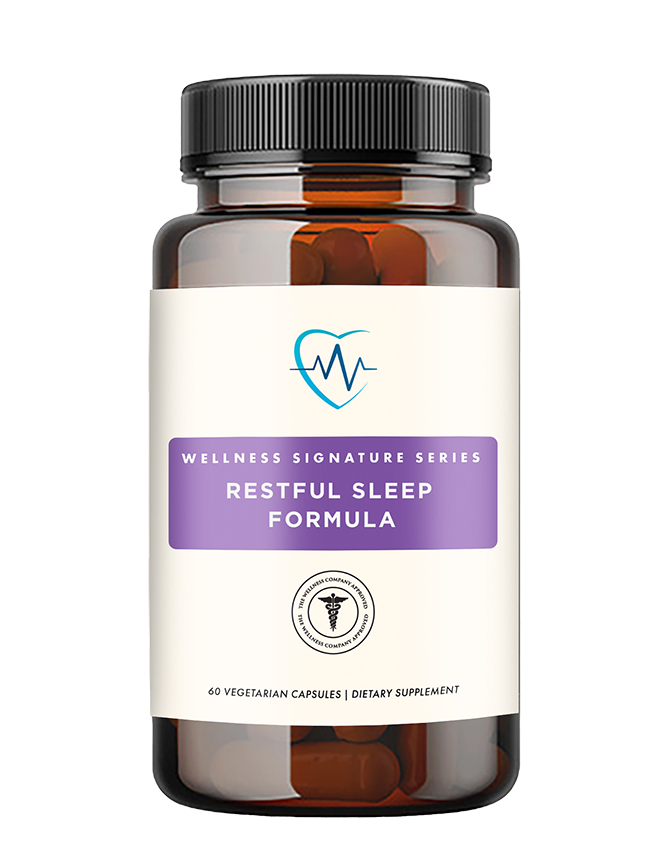 Getting a good night's sleep is essential for our overall health and well-being. For many people, however, falling asleep and staying asleep is a major challenge. If you're struggling to get a good night's rest, but don't want to depend on pharmaceuticals with significant side-effects, consider trying our Signature Series  Restful Sleep Formula, a carefully formulated natural remedy containing the following science-supported, herbal ingredients: 
Passion Flower Extract
Passion flower, a plant native to the Americas, is an effective natural remedy for anxiety and insomnia. In a 2020 study, participants with insomnia who took passion flower extract demonstrated greater sleep quantity than those who took a placebo [1]. In a separate double blind, placebo-controlled trial which measured subjective rather than objective sleep quality, passion flower extract was shown to be effective in improving perceived sleep quality [2]. 
Ashwagandha Extract
Ashwagandha is an herb commonly used in Ayurvedic medicine to reduce stress and improve sleep. Studies comparing its use to a placebo suggest that reduces sleep onset latency (the time it takes to fall asleep), increases total sleep time, and enhances sleep efficiency [3].  
Valerian Extract
Valerian is an herb that has been used for centuries to promote sleep and reduce anxiety. Research suggests that valerian extract may help improve sleep quality and reduce the amount of time it takes to fall asleep [4]. It exerts its beneficial effects through upregulation of the gamma-amino-butyric acid A (GABA A) receptor [5]. 
Chamomile Extract
Chamomile is among the most popular herbal remedy for sleep problems. A 2019 meta-analysis (study of studies) found chamomile to be an effective intervention to improve sleep quality [6]. Like valerian extract, it is also thought to work through upregulation of GABA receptors. 
Rafuma leaf extract
Rafuma, a plant native to South America, has long been used as a natural remedy for sleep problems and anxiety. Research suggests that rafuma leaf extract may have a sedative effect, improving both sleep latency onset and overall sleep quality [7]. 
Kava extract
Kava is a plant native to the Pacific Islands that has been touted as a natural solution for anxiety and various sleep problems. Studies which combine Kava Extract administration with Passionflower extract demonstrate a synergistic benefit to using the two ingredients together [8]. 
References 
[1] Lee, J., Jung, H. Y., Lee, S. I., Choi, J. H., & Kim, S. G. (2020). Effects of Passiflora incarnata Linnaeus on polysomnographic sleep parameters in subjects with insomnia disorder: a double-blind randomized placebo-controlled study. International clinical psychopharmacology, 35(1), 29-35. 
[2] Ngan, A., & Conduit, R. (2011). A double‐blind, placebo‐controlled investigation of the effects of Passiflora incarnata (Passionflower) herbal tea on subjective sleep quality. Phytotherapy Research, 25(8), 1153-1159. 
[3] Langade, D., Kanchi, S., Salve, J., Debnath, K., & Ambegaokar, D. (2019). Efficacy and safety of Ashwagandha (Withania somnifera) root extract in insomnia and anxiety: a double-blind, randomized, placebo-controlled study. Cureus, 11(9). 
[4] Taavoni, S., Ekbatani, N., Kashaniyan, M., & Haghani, H. (2011). Effect of valerian on sleep quality in postmenopausal women: a randomized placebo-controlled clinical trial. Menopause, 18(9), 951-955. 
[5] Choi, H. S., Hong, K. B., Han, S. H., & Suh, H. J. (2018). Valerian/Cascade mixture promotes sleep by increasing non-rapid eye movement (NREM) in rodent model. Biomedicine & Pharmacotherapy, 99, 913-920. 
[6]  Hieu, T. H., Dibas, M., Surya Dila, K. A., Sherif, N. A., Hashmi, M. U., Mahmoud, M., ... & Huy, N. T. (2019). Therapeutic efficacy and safety of chamomile for state anxiety, generalized anxiety disorder, insomnia, and sleep quality: A systematic review and meta‐analysis of randomized trials and quasi‐randomized trials. Phytotherapy Research, 33(6), 1604-1615., Chicago,  
[7] Yamatsu, A., Yamashita, Y., Maru, I., Yang, J., Tatsuzaki, J., & Kim, M. (2015). The improvement of sleep by oral intake of GABA and Apocynum venetum leaf extract. Journal of nutritional science and vitaminology, 61(2), 182-187. 
[8] Capasso, A., & Sorrentino, L. (2005). Pharmacological studies on the sedative and hypnotic effect of Kava kava and Passiflora extracts combination. Phytomedicine, 12(1-2), 39-45.
---