The Wellness Company's Medical Emergency Kit
Peace of Mind for the Unexpected.

Don't get caught unprepared - keep The Wellness Company's Medical Emergency Kit in your medicine cabinet!
The Wellness Company's prescription-only Medical Emergency Kit provides you with a carefully selected assortment of vital medications, preparing you for those unpredictable moments in life. Our kit ensures access to proven treatments like Ivermectin, arming you with confidence in the face of unforeseen medical emergencies.
After completing your order, you'll fill out a short intake form to receive your essential prescription-only medications with an easy-to-understand guidebook to aid you in the safe use of each.
Each kit is purposefully designed as an emergency supply tailored for ONE ADULT. Since this is a prescription product, as a purchaser you agree that the purchase of multiple kits is only intended for the person placing the order, not for any other individual(s). Government issued ID is required.
Buy now and follow the instructions after checkout to recieve your prescription Medical Emergency Kit.
**Answer health questions and submit a copy of your government issued ID for kit prescription after purchase.
US Residents Only. Shipping to Alabama and Louisiana temporarily unavailable. You should receive your kit 1-2 weeks after your order is completed.
8 Safe & Effective Emergency Medications for a Variety of Health Concerns

The Wellness Company Medical Emergency Kit includes:
· Amoxicillin-Clavulanate (generic Augmentin) 875/125 mg - 28 tablets

· Azithromycin (generic Z-Pak) 250 mg - 12 tablets

· Doxycycline Hyclate 100 mg - 60 capsules

· Metronidazole (generic Flagyl) 500 mg - 30 tablets

·

Ivermectin

18mg - 7 compounded capsules
·

Trimethoprim-Sulfamethoxazole

(generic Bactrim)

800/160 mg - 28 tablets

· Fluconazole (generic Diflucan) 150 mg - 2 tablets

· Ondansetron (generic Zofran) 4mg - 6 tablets
· 1 Emergency Medication Guidebook written by our Chief Medical Board for safe use.
Buy your kit and answer a few questions after checkout to issue your script.
From $299.99 / Members $249.99
Since this is a prescription product, as a purchaser you agree that the purchase of multiple kits is only intended for the person placing the order, not for any other individual(s). Government issued ID is required.
The Wellness Company's Medical Emergency Kit provides essential treatment options for a wide range of health conditions.
Face health emergencies with confidence and clarity, guided by our Medical Emergency Guidebook's step-by-step instructions included in the kit.
· Anthrax
· Bacterial Vaginosis
· Bite Wounds
· Bronchitis
· Chlamydia
· Clostridioides difficile
· Colitis
· COVID - 19
· Gonorrhea
· Giardiasis
· Lice
· Nausea & Vomiting
· Pharyngitis
· Pinworms
· Plague (bioterror)
· Pneumonia
· Rickettsial Infections
· Scabies
· Shigella Infection
· Sinusitis
· Skin Infection
· Strep Throat
· Syphilis
· Tetanus
· Tick Exposure
· Tonsillitis
· Traveler's Diarrhea
· Trichomoniasis
· Tularemia (bioterror)
· Urinary Tract Infection
· Vaginal Candidiasis
· Viral Upper Respiratory Infection
Stay prepared for whatever comes your way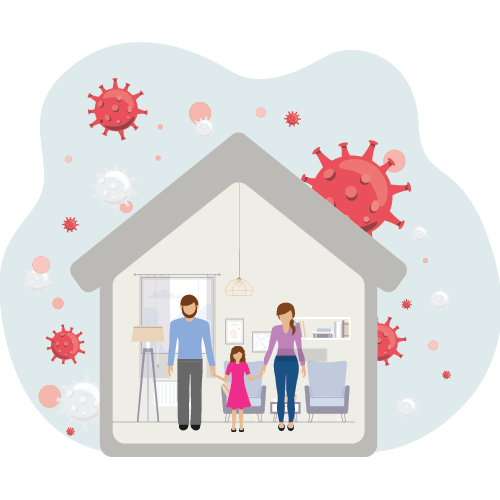 Prioritize your well-being and navigate disruptions in the medical supply chain.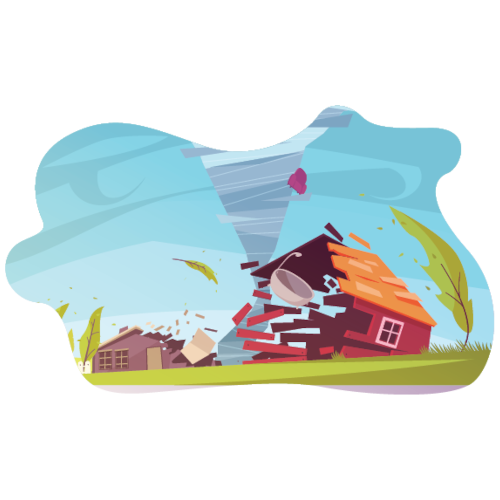 Through a natural disaster.
Secure your health amidst chaos and equip yourself to overcome the challenges of limited access to medical resources.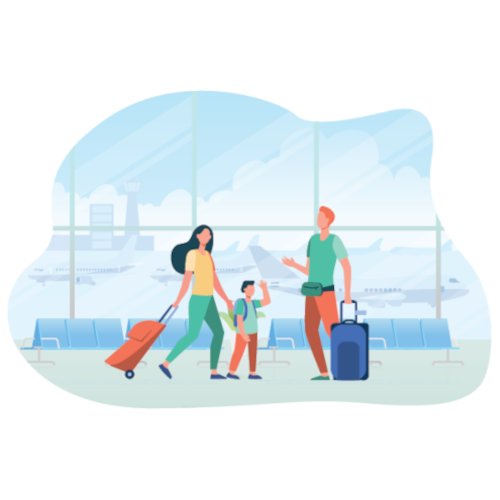 Traveling in a foreign country
Stay worry-free knowing that you won't have to stress about finding a trusted doctor during your trip.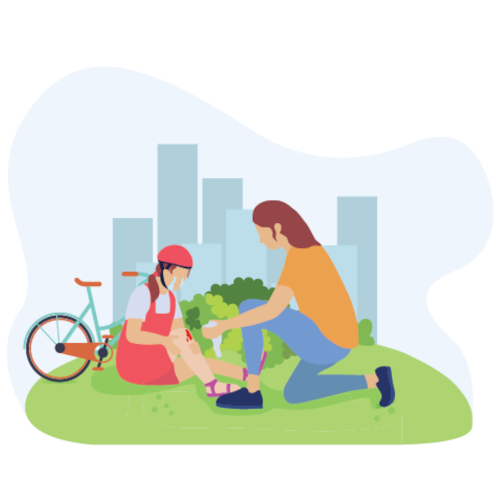 Out on an outdoor adventure
Embark on outdoor adventures with confidence, assured that you can promptly address infections even in remote locations.
Getting your Medical Emergency Kit is as simple as 1-2-3.

Click "Add to Cart" and complete the checkout process. Members save $50 off their Medical Emergency Kit.

Follow the post-checkout and emailed instructions to answer a few short questions to complete your order.

Receive your Medical Emergency Kit conveniently at your home's doorstep in 1-2 weeks.
$299 for non-members
$249 for Members (Save $50!)
Your ultimate Medical Emergency Kit with unbeatable value and comprehensive medication coverage.
Relieve financial stress from your preparedness plan with our comprehensive Medical Emergency Kit.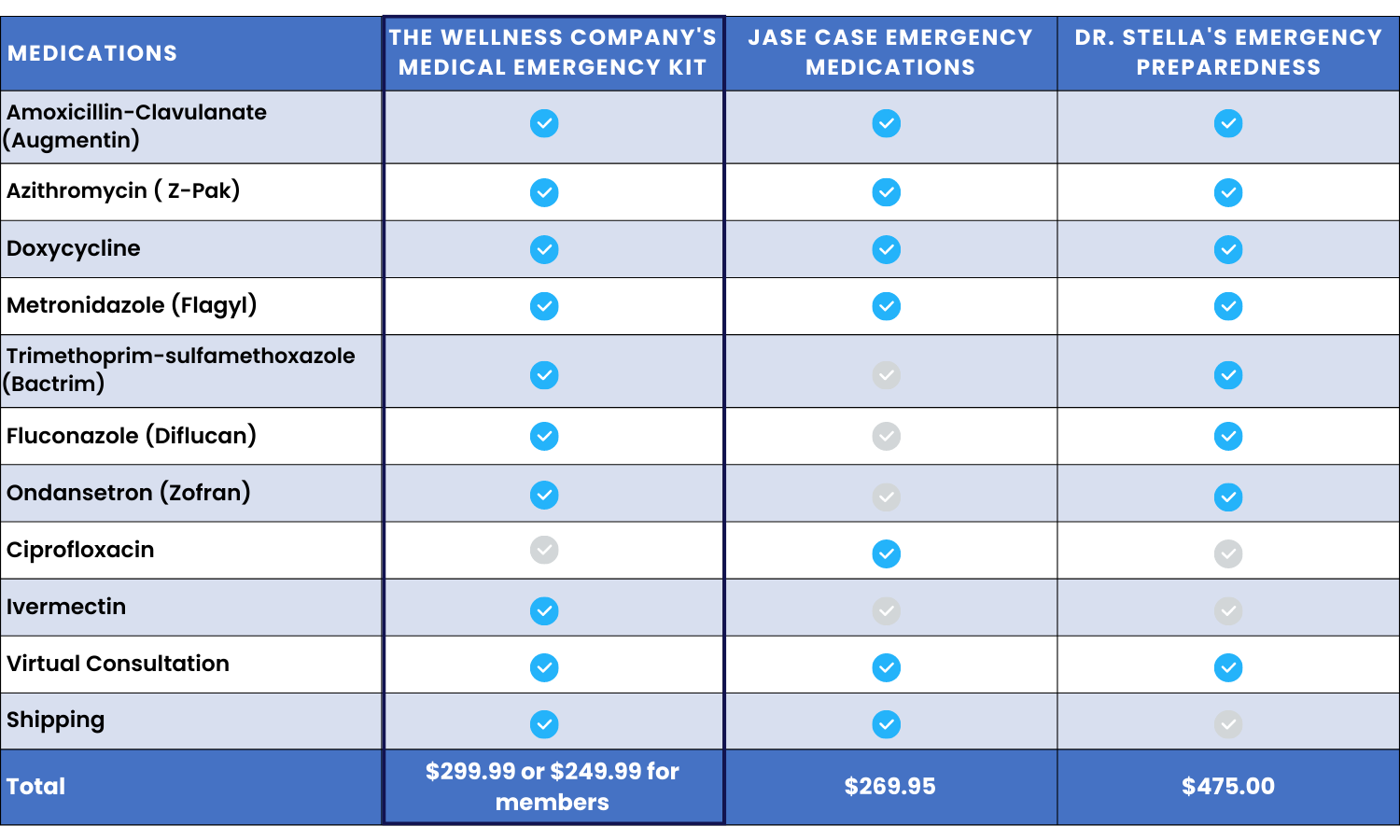 Frequently Asked Questions
Do I need a prescription?
Yes! The medication in the Medical Emergency Bag are prescription-only and only a qualified medical professional can determine if the medications are appropriate for you. But don't worry - follow the instructions at checkout (also emailed to you after) to answer a few short questions needed to evaluate and fill your script.
Is The Wellness Company Medical Emergency Kit covered by insurance?
No, The Wellness Company does not accept any type of health insurance or 3rd party payors.
Can I request a specific medication when placing an order?
The Wellness Company does not currently offer the option to swap specific medications or place partial orders for antibiotic kits. However, you can schedule a Virtual Care consultation through our care portal at https://care.twc.health/ to speak with a provider about another prescription. Your provider will be able to provide further assistance and guidance based on your specific needs and concerns.
How do I schedule a virtual care consultation to receive my Medical Emergency Kit?
Click the link that appears on the last page of checkout when purchasing Medical Emergency Kit to fill out a few additional intake questions used to confirm your suitability for your prescription medical kit. Didn't see the link? Don't worry! We will also send you a link via email automatically, or you can email our Customer Support team at help@twc.health.
Can I share my kit with family members?
The Wellness Company only offers individual kits that are prescribed to the specific individual to whom the medication is intended. The prescribed medications take into account the individual's answers on the intake form, including any noted allergies. It is crucial to consider these allergies and prevent others from using medications that may pose a risk to them. The emergency antibiotics should be handled with the same caution as any other prescription medication prescribed by a physician. It is important to adhere to the prescribed usage guidelines and avoid sharing the kit with family members unless explicitly advised to do so by a qualified healthcare professional.
Does The Wellness Company accept HSA cards?
While The Wellness Company generally accepts HSA (Health Savings Account) cards, it's important to check with your insurance provider before attempting to use your card. Some insurance plans may have specific requirements, such as an itemized cost breakdown for each medication, which The Wellness Company may not be able to provide. We encourage you to verify with your insurance provider regarding their guidelines and coverage for using HSA cards.
What is the shelf life of medications in The Wellness Company Medical Emergency Kit?
The FDA requires pharmacies to label prescription medications with an expiration date, which can be found on the prescription included in your kit. While the duration of the expiration date can vary depending on the medication and formulation, most medications, including antibiotics, commonly have a shelf life of around 2 years. To optimize the shelf life of medications, it is generally recommended to store them in air-tight containers in a cool and dry environment. However, it's important to note that storage requirements can vary for different medications, so it is advisable to consult with your healthcare professional regarding proper storage conditions.
Our customer service team is some of the best – and are available to answer your questions.
We can even put you in touch with our medical team for further assistance.
AskADoc@twc.health
800-758-1584
DISCLAIMER
The information provided on this website is intended for informational purposes only and should not be considered medical advice or used as a substitute for professional healthcare guidance. It is your responsibility to comply with all applicable laws, regulations, and guidelines regarding the purchase, possession, and use of prescription medications.
All products offered through this webpage are by prescription only. You must consult with a The Wellness Company provider in order to receive any of the prescriptions contained in the emergency kit. We strongly advise you to consult with a licensed healthcare provider before using any prescription medication obtained through this website. Your healthcare provider is best positioned to evaluate your specific health condition, provide a proper diagnosis, and determine the most appropriate treatment options for your needs. The prescription medications available on this website are intended for emergency situations where immediate medical attention is not accessible. They should not be used as a substitute for regular medical care or consultation with a qualified healthcare professional. Please note that your kit may take 1-2 weeks to arrive, with delivery times varying based on your scheduled provider consultation date.
Exclusive Usage: The medications within this kit are prescribed specifically to you and are intended only for your use. It is illegal and dangerous to transfer or share any medication from this kit with another individual. Federal law strictly prohibits this. It is your responsibility to ensure that the medications you purchase are suitable for your medical condition, age, weight, and any other relevant factors. We do not assume any liability for the misuse, improper administration, or adverse effects resulting from the use of prescription medications purchased from this website.
Guideline Adherence: Please utilize the medications as per the guidebook included in the kit. Following the guidebook's instructions will ensure safe and appropriate usage. While we strive to provide accurate and up-to-date information on our website, we cannot guarantee the availability of specific medications at all times. The product descriptions, dosages, indications, and contraindications provided are for general reference only and may not reflect the latest medical research or clinical guidelines.
Risks & Side-Effects: Prescription medications may carry risks and side effects, which can vary from person to person. It is important to carefully read all product labels, packaging inserts, and accompanying information before using any medication. If you experience any adverse reactions or unexpected effects, discontinue use immediately and seek medical assistance.
Allergy Precautions: If you have a known allergy or have previously experienced adverse reactions to any medication, it is crucial that you avoid using those medications.
Sulfamethoxazole and Trimethoprim: Avoid if you have a sulfa allergy.
Azithromycin: Do not use if you have an allergy to macrolides.
Doxycycline: Do not use if you are allergic to tetracycline.
Amoxicillin/Clavulanate: Some people with a penicillin allergy might also react to amoxicillin as it is a type of penicillin
For all other medications: Please consult the guidebook for details on drug classes and associated allergic reactions. Your health and safety are of utmost importance. If you suspect you might be allergic to any medication in this kit, do not take it. It is crucial to note that any drug can cause an allergic or adverse reaction, even if it's rare or if the individual hasn't had a reaction in the past. Discussing any known allergies or previous adverse reactions with a healthcare professional (when possible) is important.
ASSUMPTION OF LIABILITY: By accepting and utilizing this Emergency Preparedness Medication Kit, you acknowledge and assume full responsibility and liability related to the use of any of its products. It is your responsibility to ensure the medications are used safely and appropriately. We urge you to use this kit responsibly and with the utmost care. Should you have any doubts or concerns about any medication in this kit, please reach out to a healthcare provider or pharmacist if accessible.To the fullest extent permitted by law, we disclaim all liability for any direct, indirect, incidental, consequential, or special damages arising from your use of this website, or the purchase and use of prescription medications obtained through this website, including but not limited to damages for personal injury, loss of profits, or any other damages or losses.
To review our Virtual Care Service Terms and Conditions and Policies, please visit our dedicated Terms of Service page.
Stay safe and be prepared!