Dr. Peter McCullough's Healthy Heart and Muscle Formula
Keep heart and muscle function at peak condition.
Dr. McCullough's Healthy Heart & Muscle Formula is designed to keep your body's cardiovascular performance and muscle functionality at its optimum condition.
Critical nutrients in this newest formula can guard against virus-induced inflammation and fatigue that keep you from seizing the day. Recover from illness and maintain strength to stay at your best health.
Subscribe and save 5% on your monthly supply.
Why subscribe? Save money, keep your body healthy, and never worry about running out of Dr. McCulloch's Healthy Heart and Muscle Formula – with a fresh bottle shipped once a month.
WHAT'S IN DR. PETER MCCULLOUGH'S HEALTHY HEART AND MUSCLE FORMULA?
Dr. McCullough's Healthy Heart and Muscle Formula contains D-Ribose Powder to help you maintain body composition and exercise endurance with the power of Coenzyme Q10 and Selenium Citrate to help increase overall cardiac functions.
Together with a Vitamin B Complex to fortify muscles, L-Carnitine also provides energy for heart, muscle, and brain.
Healthy Heart and Muscle Formula has been vetted by the TWC Chief Medical Board.
This bottle contains a 1-month supply.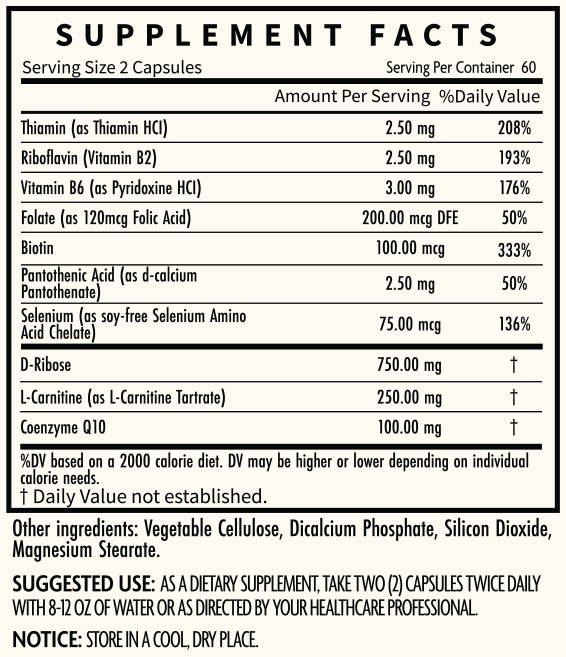 Dr. McCullough's Healthy Heart and Muscle Formula saves you 40% per bottle.
| | |
| --- | --- |
| Ingredient | Average Bottle |
| | |
| | |
| | |
| | |
| | |
| | |
| | |
| | |
Compared to buying each ingredient separately from other sources, Dr. McCullough's formulation saves you over 40% per bottle.
The Wellness Company strongly believes in transparency because you deserve to know exactly what you're putting inside your body.
And while this means you could easily take the ingredients listed above and make Dr. McCullough's product yourself with items purchased from other vitamin suppliers, we're able to save you money thanks to our agreements with our suppliers.
Dr. McCullough's formula saves you over $40 per bottle – and also means you can rely on The Wellness Company's quality, safety, and satisfaction guarantee.
About Dr. Peter McCullough
Chief Scientific Officer, The Wellness Company
Dr. Peter McCullough earned a Bachelor of Science degree from Baylor University in 1984 and his medical degree from the University of Texas Southwestern Medical Center in 1988.
He completed his residency in internal medicine at the University of Washington in Seattle, a cardiology fellowship in 1991, and practiced internal medicine in Grayling, Michigan, for two years before enrolling in the University of Michigan School of Public Health, earning a master of public health (MPH) degree in 1994.
The science behind
Dr. McCullough's
Healthy Heart and Muscle Formula
Learn more about how science - not political science – guides our recommendations.
Based on this product, we also recommend:
SUBSCRIBE TO OUR NEWSLETTER
Recieve our latest weekly releases, offers, guides and more.
These statements have not been evaluated by the Food and Drug Administration. These products are not intended to diagnose, treat, cure or prevent any disease. Information this website is provided for informational purposes only. It is not meant to substitute for medical advice from your physician or other medical professionals. You should not use the information contained herein for diagnosing or treating a health problem or disease, or prescribing any medication. Read all product documentation. If you have or suspect that you have a medical problem, promptly contact your regular health care provider.