Wellness Company Memberships
Become healthier and join the fight for medical freedom.
Be part of something extraordinary and break free from a medical system that profits from sickness. The Wellness Company Membership allows you to finally take control of your personal wellness and take a stand against deceptive government officials, corrupt businesses, and censorship-loving tech. Your membership helps us deliver better healthcare and advocate for medical freedom as we work to save American medicine from itself.

Better Health: As a Member, you will benefit from discounts on the all products and wellness services you need to get well and stay well. You receive free shipping on every order.
Get the Truth: Members receive exclusive content like our fast-growing newsletter and invitations to our acclaimed virtual Med Talks with The Wellness Company's Chief Medical Board for wellness insights not found anywhere else.
Plus Annual Memberships save an additional $20 per year!
Be Healthy. Be Extraordinary. Join us today!
Use discount code FIRSTMMBRFREE at checkout and become a Member for 99¢ for your first month or $9 off an annual Membership.
Save 30% on supplements after you purchase your Wellness Company Membership. Use code: MBRBLACKFRIDAY30 - see membership purchase confirmation email for additional details!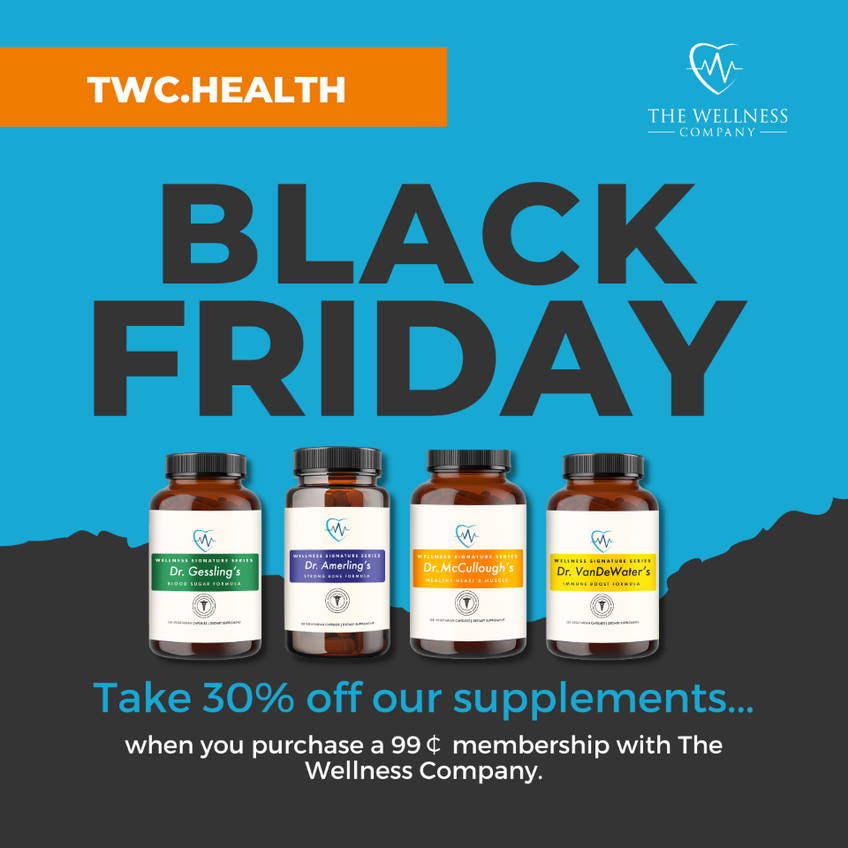 Prioritize Your Health With a Wellness Company Membership
As a Wellness Member, you enjoy:

- Discounted prices on all Marketplace vitamins, supplements, and products.
- Free shipping on every order.
- Reduced service rates for all virtual care packages and services.
- Exclusive content in The WELL and access to closed-door community features and events, such as virtual fireside chats with your Chief Medical Board.

If you make one purchase a month, your Membership pays for itself!
Convenient Virtual Housecalls
Freedom From Pharma Members receive an additional benefit: a Wellness Partner. This pharmacy team member will develop a deprescribing plan based on YOUR needs.
Freedom From Pharma Members receive two visits per month with their Wellness Partner to develop goals and receive counseling on naturalistic alternatives to pharmaceuticals.

"Your Membership supports a sustainable business model focused around true Wellness, not around selling your data, advertising with big pharma, or making money off your sickness by selling overpriced scripts."
- Foster Coulson, Founder & CEO of The Wellness Company