Signature Series Strong Bone Formula
Fortify your bones for better, natural strength.
Your bones naturally lose strength every year as you age. Fortunately, with exercise and proper nutritional supplementation, that loss can be turned into a gain.
Make worrying about falls and injury a thing of the past - get back to living your life. Strong bones form the basis of everyday movement. This formula gives you all the key minerals to build bone strength and support a healthy, active lifestyle.
Subscribe and save 5% on your monthly supply.
Why subscribe? Save money, keep your body healthy, and never worry about running out of Strong Bone Formula – with a fresh bottle shipped once a month.
WHAT'S IN STRONG BONE FORMULA?
Strong Bone Formula contains Vitamin D3, K2, and A vitamins to absorb calcium from the gut and then assures its deposition into bone, rather than soft tissues.
With calcium and magnesium, this formula may provide a safe and effective means to improve bone health as we age.
Strong Bone Formula has been vetted by the TWC Chief Medical Board.
This bottle contains a 1-month supply.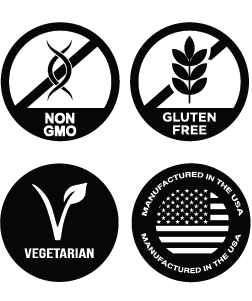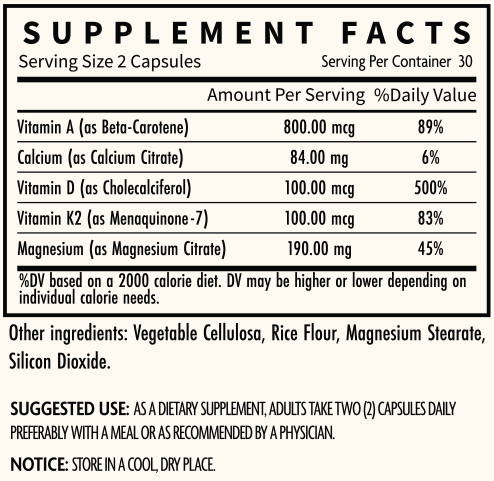 Strong Bone Formula
saves you 26% per bottle.
| | |
| --- | --- |
| Ingredient | Average Bottle* |
| | |
| | |
| | |
| | |
| | |
| | |
| | |
| | |
Compared to buying each ingredient separately from other sources, our Strong Bone formulation saves you over 26% per bottle.
The Wellness Company strongly believes in transparency because you deserve to know exactly what you're putting inside your body.
And while this means you could easily take the ingredients listed above and make our product yourself with items purchased from other vitamin suppliers, we're able to save you money thanks to our agreements with our suppliers.
Our formula saves you over $20 per bottle – and means you can rely on The Wellness Company's quality, safety, and satisfaction guarantee.
The science behind
Strong Bone Formula
Learn more about how science - not political science – guides our recommendations.
The Wellness Company was born out of necessity. By unequivocally and unapologetically standing up for medical freedom and the right to affordable health care, our company's vision champions the right to make personal health choices.
The Wellness Company strives to build a new health care system that earns people's trust, is governed and operated with transparency, and offers the highest quality practitioners who align at their core with our fundamental belief - to put the patient first.
The fabric of this company has been woven together by its medical team and their devotion to the public. Their courage and bravery in the fight for medical freedom and truth will ensure improved health outcomes. It will also contribute to convenient access to physicians and lower healthcare costs for patients.
Based on this product, we also recommend:
These statements have not been evaluated by the Food & Drug Administration. This product is not intended to diagnose, treat, cure, or prevent any disease.
Allergen Warning: This product is produced in an a facility that may also process ingredients containing milk, eggs, fish, shellfish, tree nuts, peanuts, wheat, and soybeans.
Intended for use by adults 18 years of age and over. Do not use if the seal under the cap is broken or missing. Please contact a healthcare practitioner or email askadoc@twc.health before taking or using this supplement. Keep out of the reach of children.