Signature Series Restful Sleep Formula
Finally: find deep, natural sleep.
Poor sleep can negatively impact many crucial parts of your health.
It gets worse when you start using hormone supplements like melatonin - your tolerance can build up and other hormones in your body can be disrupted.
Target the factors that disrupt a healthy night's sleep with natural ingredients that calm the mind and reduces residual stress from the day so you can get a better night's sleep.
Subscribe and save 5% on your monthly supply.
Why subscribe? Save money, keep your body healthy, and never worry about running out of Restful Sleep Formula – with a fresh bottle shipped once a month.
WHAT'S IN RESTFUL SLEEP FORMULA?
Restful Sleep Formula combines:
Passion Flower to relax and promote an easy start to your sleep routine.
Rafuma Leaf stabilizes the mind and prepares it for restful sleep.
Kava mitigates the impacts of stress as you wind down.
Chamomile for its time-tested properties of providing a gentle calming effect on the brain and body.
Valerian Root to help reduce anxiety.
Ashwagandha Root to help regulate the negative impacts of daily stress on your immune system.
Restful Sleep Formula has been vetted by the TWC Chief Medical Board.
This bottle contains a 1-month supply.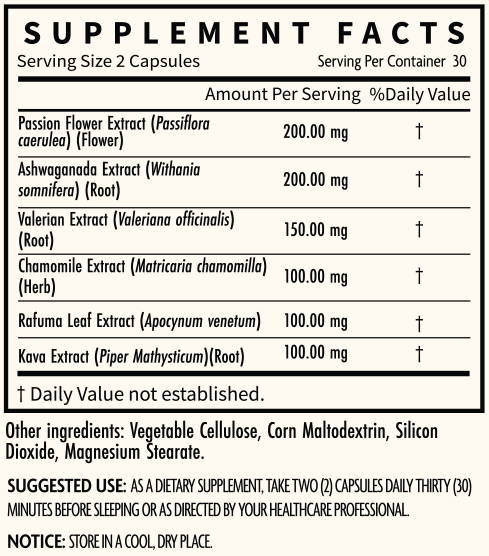 Restful Sleep Formula
saves you 55% per bottle.
| | |
| --- | --- |
| Ingredient | Average Bottle* |
| | |
| | |
| | |
| | |
| | |
| | |
| | |
| | |
| | |
Compared to buying each ingredient separately from other sources, our formulation saves you over 55% per bottle.
The Wellness Company strongly believes in transparency because you deserve to know exactly what you're putting inside your body.
And while this means you could easily take the ingredients listed above and make our product yourself with items purchased from other vitamin suppliers, we're able to save you money thanks to our agreements with our suppliers.
Our Signature Series formula saves you over $66 per bottle – and means you can rely on The Wellness Company's quality, safety, and satisfaction guarantee.
The science behind
Restful Sleep Formula
Learn more about how science - not political science – guides our recommendations.
The Wellness Company was born out of necessity. By unequivocally and unapologetically standing up for medical freedom and the right to affordable health care, our company's vision champions the right to make personal health choices.
The Wellness Company strives to build a new health care system that earns people's trust, is governed and operated with transparency, and offers the highest quality practitioners who align at their core with our fundamental belief - to put the patient first.
The fabric of this company has been woven together by its medical team and their devotion to the public. Their courage and bravery in the fight for medical freedom and truth will ensure improved health outcomes. It will also contribute to convenient access to physicians and lower healthcare costs for patients.
Based on this product, we also recommend:
SUBSCRIBE TO OUR NEWSLETTER
Recieve our latest weekly releases, offers, guides and more.
These statements have not been evaluated by the Food and Drug Administration. These products are not intended to diagnose, treat, cure or prevent any disease. Information this website is provided for informational purposes only. It is not meant to substitute for medical advice from your physician or other medical professionals. You should not use the information contained herein for diagnosing or treating a health problem or disease, or prescribing any medication. Read all product documentation. If you have or suspect that you have a medical problem, promptly contact your regular health care provider.