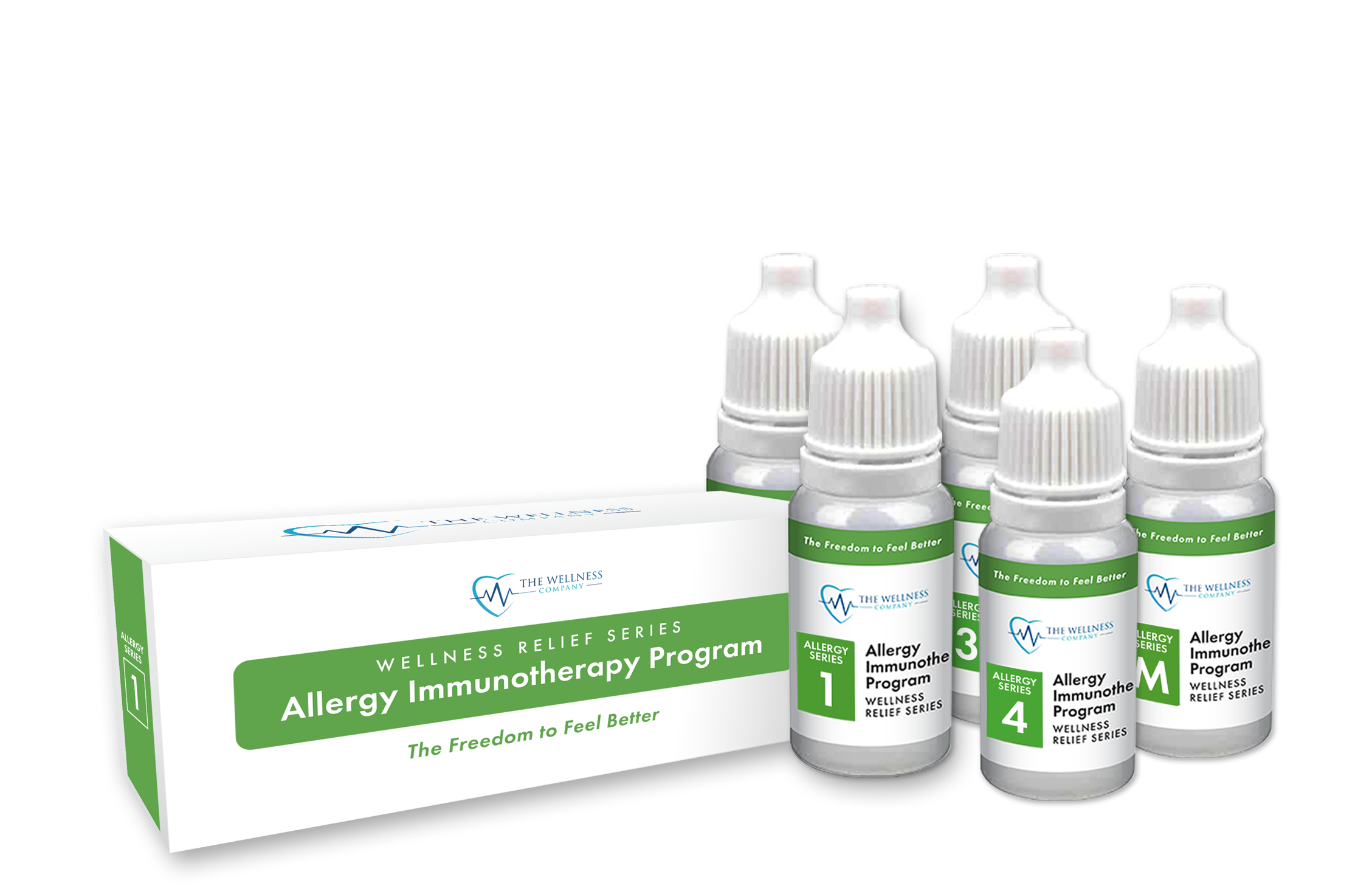 Becoming 100% allergy free is now possible.
Allergy Immunotherapy Program from The Wellness Company
The Wellness Company's Allergy Immunotherapy Program can help you become symptom-free through safe, daily drops placed under your tongue from the convenience of home – without painful needles, reactions, or visits to the doctor's office.
In fact, most patients who finish their 12-month treatment are symptom-free – and never have to step into a doctor's office.
A few drops under your tongue each day really can mean freedom from allergies in 12 months.
We're not just saying it.
There's real science to back this up.
Our unique immunotherapy program is based on scientifically-tested, research-driven antigen formulations that steer your body's immune response to allergens away from the symptoms you're accustomed to, and toward being 100% symptom-free.
The science behind AllergyFree
Selected peer-reviewed articles about sublingual immunotherapy treatment (SLIT)
1. Sublingual Immunotherapy for Allergic Rhinitis and Conjunctivitis
Giovanni Passalacqua, Valentina Garelli, Francesca Sclifò, Giorgio Walter Canonica Immunotherapy. 2013;5(3):257-264.
2. Adult and Pediatric Clinical Trials of Sublingual Immunotherapy in the USA
Dai Park, Nora Daher, Michael S Blaiss Expert Rev Clin Immunol. 2012;8(6):557-564.
3. Sublingual immunotherapy for the treatment of allergic rhinoconjunctivitis and asthma: a systematic review.
Lin SY1, Erekosima N, Kim JM, Ramanathan M, Suarez-Cuervo C, Chelladurai Y, Ward D, Segal JB.Erratum in JAMA. 2013 Aug 14;310(6):647
4. Efficacy and safety of sublingual immunotherapy in children aged 3-13 years with allergic rhinitis.
Author information Shao J1, Cui YX, Zheng YF, Peng HF, Zheng ZL, Chen JY, Li Q, Cao LF.
5. Oral mucosal immunotherapy for allergic rhinitis: A pilot study
William R. Reisacher, M.D.,1 Maria V. Suurna, M.D.,1 Kate Rochlin, Ph.D.,2 Maria G. Bremberg, R.N.,1 and Guy Tropper, M.D.3 (Allergy Rhinol 7:e21–e28, 2016; doi: 10.2500/ar.2016.7.0150)
Selected peer-reviewed articles about sublingual immunotherapy treatment (SLIT)
Here's how your pain-free under the tongue treatment works: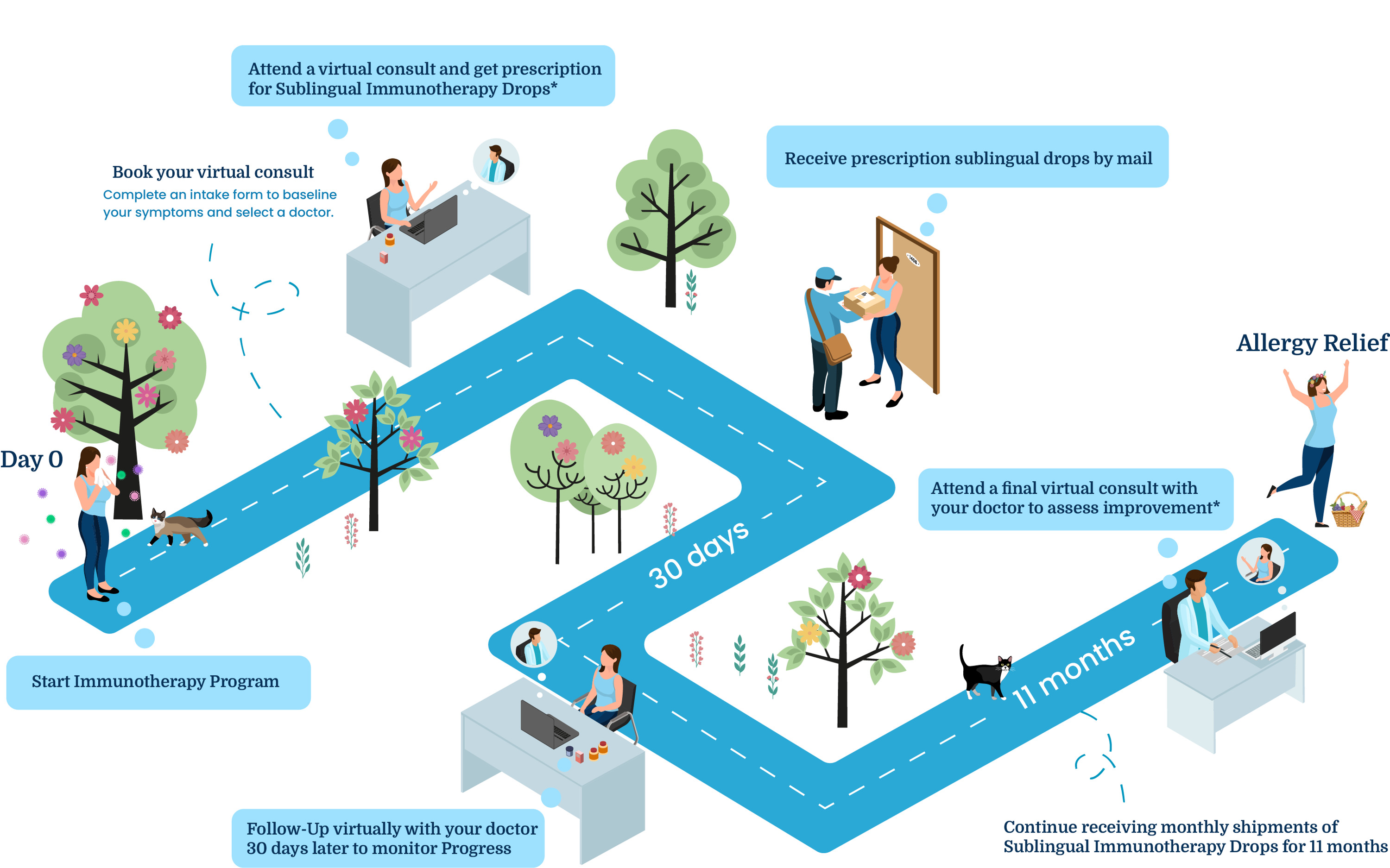 Assess your Symptom Score to know where you started
By knowing where your symptoms were, you'll be able to track how far you've come with your progress over the course of your treatment. Our Symptom Score analysis is quick and easy, and you can complete it from home.
Begin month one of
your customized treatment
Treatment droplets are shipped to your home every 30 days. Sublingual drops are placed easily under the tongue based on a customized schedule, and the number of drops increase over the 12-month treatment.
Recieve care from a TWC doctor each month to track your progress
TWC doctors will work with you on identifying your symptoms and make science-based recommendations to your treatment plan – without having to go into an office.
Re-assess your symptoms
throughout treatment
By tracking your progress, you'll be able to see how your symptoms improve. In fact, most people see an significant improvement in their allergy symptoms in just a few short months – and most become symtom-free in 12 months.
The result: Better treatment. Better care. Better relief.
AllergyFree Treatment Kit is different.
Trial and error – and painful shots
The old approach involved going to the doctor, getting shots, getting itchy, and going back for more shots.
This took hours each time and made your life hell for days on end – and the treatment didn't even guarantee your symptoms would decrease!
Worse, the treatments sometimes could cause severe allergic reactions.
Not only did all of this take time, but it also took money – each visit often requires a co-pay, along with payment for drugs.
It doesn't have to be like that.
Complete and painless allergy treatment at home.
Today's approach is radically different.
The AllergyFree approach uses easy-to-take under the tongue drops which safely changes the way your body responds to allergies using immunotherapy.
Combined with virtual healthcare visits to track your progress along the way, the 12-month AllergyFree program saves you time, money, and is safer than the old approach.
It's not magic – it's proven science. And with one predictable monthly cost, your entire care is covered.
The result:
Better treatment.
Better care. Better relief.
Is AllergyFree right for me?
AllergyFree is a great choice to resolve allergy sumptoms for most people of all ages.
If you take beta blockers or have labile asthma, make sure to ask your doctor if AllergyFree is right for you.
Taking AllergyFree is not recommended for pregnant women However, if you are already taking sublingual immunotherapy drops and become pregnant, you can continue AllergyFree at a stable dose throughout your pregnancy.
Do not use AllergyFree if you have open sores, cuts or ulcers in your mouth, or if you are undergoing dental procedures that cause bleeding (including oral surgery, tooth extraction, etc.), because the the medication could enter your bloodstream too quickly and cause a reaction. You can resume taking the tablets or drops when your mouth has healed.
Still not sure? Email a TWC doctor today.
---
Frequently Asked Questions
How does allergen immunotherapy work?
The exact mechanism by which desensitization immunotherapy like AllergyFree switches off allergies is uncertain, but there are several working theories:
One theory has been that AllergyFree works by helping your body naturally produce a specific antibody which blocks IgE, which is an allergy-triggering substance in your body. During the course of treatment, the levels of IgE fall, and IgG rise – naturally tricking your body into becoming both less reactive to allergies, but also making your body produce more of a natural substance to block them.
Another theory is that immunotherapy like AllergyFree modulates T-helper cells, which causes switching (of what?) from predominantly TH2 (an [antibody?] which induces creation of IgE – the substance which makes your body react to allergies) to predominantly TH1 (which induces creation of IgG (the allergy-blocking antibody).
Either way, your allergy symptoms drop along with your levels of allergy-triggering IgE throughout and after treatment with AllergyFree.
Is this program safe for children?
Absolutely! Allergy Immunotherapy Program is safe for people ages 5 and up.
What if my symptoms persist after 12 months?
Most patients who finish their drops are symptom-free by the end of the 12 month program. You may continue the program if your provider deems you suitable.
How long does the treatment last?
This is a 12-month treatment which includes monthly shipments of drops that are placed underneath the tongue every day.
How does the treatment reduce medication dependence and eliminate unwanted side effects?
Adding daily antigens to your body will gradually increase your threshold for an immune response. Over time, these effects will accumulate and create a higher tolerance to environmental allergens that previously triggered an immune response.
Can pregnant women take TWC Allergy Immunotherapy Program allergy drops?
Taking AllergyFree is not recommended for pregnant women. However, if you are already taking sublingual immunotherapy drops and become pregnant, you can continue AllergyFree at a stable dose throughout your pregnancy.

Our customer service team is some of the best – and are available to answer your questions.
We can even put you in touch with our medical team if you have questions before beginning your treatment.
help@twc.health
800-758-1584
SUBSCRIBE TO OUR NEWSLETTER
Receive our latest weekly releases, offers, guides and more.
These statements have not been evaluated by the Food & Drug Administration. This product is not intended to diagnose, treat, cure, or prevent any disease.
Allergen Warning: This product is produced in an a facility that may also process ingredients containing milk, eggs, fish, shellfish, tree nuts, peanuts, wheat, and soybeans.
Intended for use by adults 18 years of age and over. Do not use if the seal under the cap is broken or missing. Please contact a healthcare practitioner or email askadoc@twc.health before taking or using this supplement. Keep out of the reach of children.